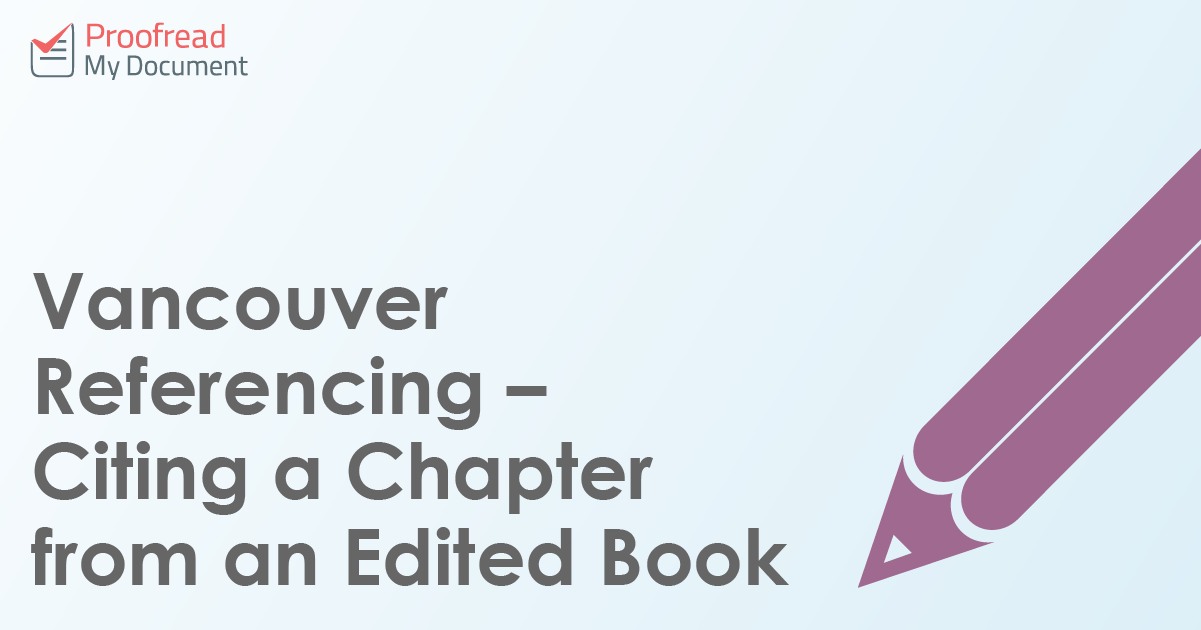 Vancouver Referencing – Citing a Chapter from an Edited Book
Edited collections of essays can be very useful for students, providing a range of views on a topic in a single volume. However, citing a chapter from an edited book is not the same as citing a book with a single author. Check out our guide to find out how this works in Vancouver referencing.
In-Text Citations
As with any source in Vancouver referencing, citing a chapter from an edited book requires giving a bracketed number in the main text of your document:
She sells seashells by the sea shore (1).
Each citation number points to an entry in the reference list at the end of your document, with sources numbered in the order they are first cited. Here, for example, we have cited the first source in the reference list (and we would use the same number for repeat citations).
Typically, as shown above, citations should go before punctuation in the relevant clause. However, if the author is named in the text, give the citation immediately afterwards:
Sullivan (1) reports that she sold 'seashells by the sea shore' (p. 24).
Because we are quoting a source here, we also include a page number in brackets after the quotation to indicate where it is from.
Find this useful?
Subscribe to our newsletter and get writing tips from our editors straight to your inbox.
Reference List
The reference list entry for a chapter from an edited book should include details of both the chapter itself and the overall container volume. The overall format is therefore as follows:
(Citation Number) Chapter Author Surname + Initial(s). Chapter Title.  In:  Editor(s) name(s), editor(s).  Book Title.  Edition (if applicable). Place of Publication:  Publisher; Year of Publication. Page Range.
The reference list entry for a chapter from an edited book should thus look something like this in practice:
(1) Sullivan T. Economic Outsiders in Coastal Towns. In: Gifford H, editor. Do I Want to Be Beside the Seaside? Life by the Shore. New York: Gull Books Inc.; 2015. p. 20–31.
Variations of Vancouver Referencing
The guidelines above provide a clear and concise way of citing a chapter from an edited book in an essay or paper. However, keep in mind that 'Vancouver referencing' is not a unified system.
Your university may have its own version of Vancouver referencing. This should be similar to the approach set out here, but you should still check your style guide for the exact details. The key, as ever, will be to apply a clear and consistent referencing style throughout your work.
More Writing Tips?
Have you been asked to give an informative speech, or do you simply want to...
Trusted by thousands of leading institutions and businesses