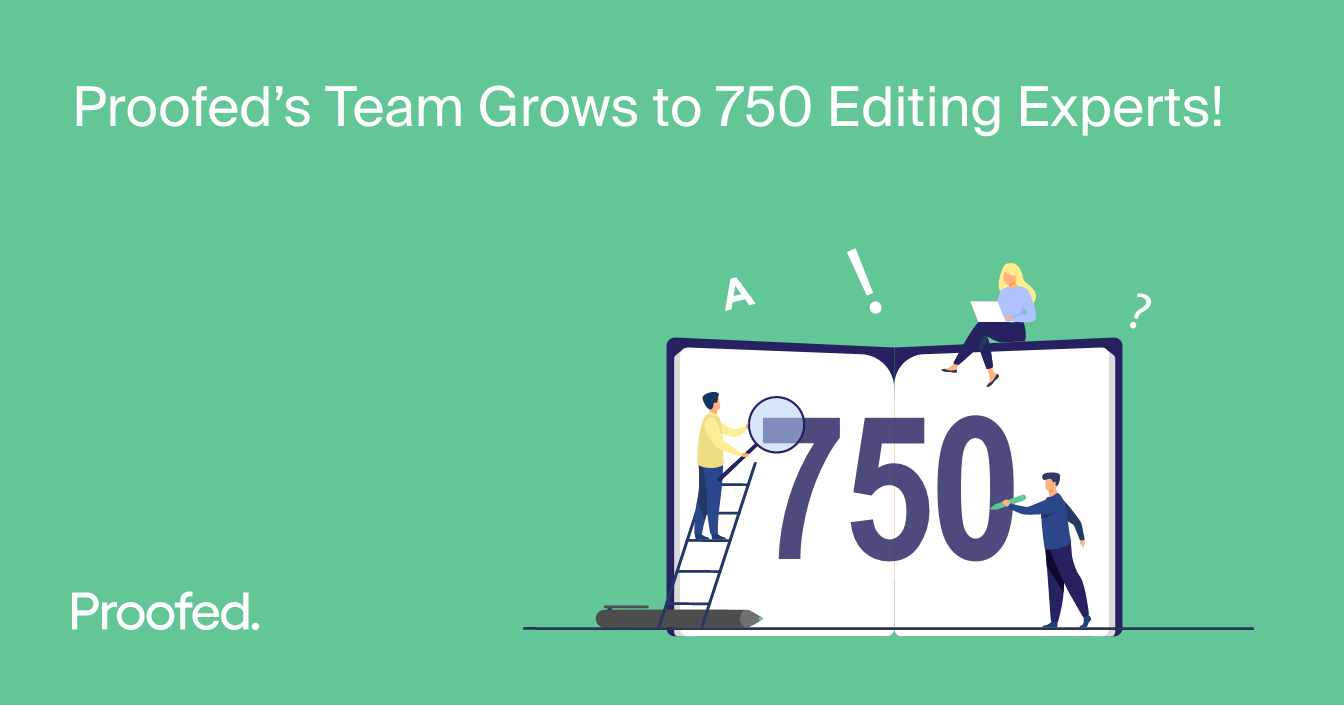 Proofed's Editing Team Grows to 750 Expert Editors
Expanded team includes subject matter experts from many backgrounds.
Proofed has recently achieved the milestone of having 750 active editors on staff—one of the largest editorial teams in the proofreading world. With subject matter experts from a range of professional and academic backgrounds, we like to think our team is the best in the editing business.
Part of this success is rooted in our partnership with Knowadays (previously Proofreading Academy) and their Becoming A Proofreader course. All of Proofed's recent recruits have taken this course, helping to ensure consistency across the company. And since we only approach the very best students to join our team, you can be confident our editors are writing experts.
In addition, the rapid expansion of the size of our editorial team means we now have experts in a greater range of subject areas than ever before. This includes specialists in dozens of academic and professional disciplines, meaning we always have the right editor for the job.
The growth of our editorial team also means that Proofed is able to:
Find this useful?
Subscribe to our newsletter and get writing tips from our editors straight to your inbox.
Handle a wider range of content and editorial needs so we can deliver our world-beating business services to even more companies and professionals.
Provide informed, helpful feedback and comments on returned documents, which helps our customers to understand the changes we make and improve their writing.
Guarantee some of the fastest turnaround times in the market.
Proofed's operations manager, Linda Rawlinson, who has been excited to welcome so many new editors to the team, says, "It's astonishing that we've reached 750 active editors so quickly! We're onboarding very strong editors every week, which has significantly helped us to scale our business services. Because we match editors to business clients according to their skills and experience, and also more generally to the work we think the editors will enjoy, we are now able to work with a wide range of clients across many different industries."
We don't take our editors for granted at Proofed either! Our development team is constantly innovating new solutions to make the proofreading process smoother, including developing a new editor area to streamline the workflow for our editorial team. This will help our editors do their best work, and in turn ensure that our customers get the best possible service.For more exciting news from Proofed, including upcoming case studies about some of our work with world-leading companies, keep an eye on our most recent press releases. To learn more about our team of editors and the various subject areas in which we boast specialists, do not hesitate to get in touch with our operations manager, Linda, at linda@getproofed.com.
More Press Releases?
AI-generated content is here and it's revolutionizing content production. But getting that content reviewed and...
Trusted by thousands of leading institutions and businesses