AI technologies have made people's lives easier across the globe by automating processes. Things that would normally take hours or days can now be done in a matter of minutes. In the content creation world, AI is front and center, and writers are having a field day with new AI writing programs like ChatGPT. 
We're not here to promote the use of AI writing programs to writers or companies producing content they intend to publish for a wider audience. But we view AI as a tool that can help you spend less time on tedious writing tasks and more on creating original, thought-provoking content. Additionally, it can be a great way to scale your content creation processes and produce more of the information that readers are looking for. 
In this article, we'll talk about why businesses and copywriters should be taking advantage of AI-generated content and look at how they can use it ethically.
Why Use AI in Content Creation?
Any business or writer who engages with content creation can benefit from AI. The first reason is simple: it cuts down on costs. While a copywriter can charge around $50 an hour, you can subscribe to an AI writing program for little to no cost. 
However, cutting corners by replacing writers with technology isn't going to benefit anyone. Google released a statement explaining that AI-generated content is considered spam, according to its policies. If Google flags content as being AI-generated, it won't rank well on a search engine results page (SERP), which is generally the goal of web copy or content. 
But using AI to enhance and expedite writing processes will benefit companies. It allows businesses to scale their content because writers will spend less time on the more arduous aspects of the writing process and produce a larger volume of content with faster turnaround times and a focus on quality. Creating more high-quality content will increase a business's chance of obtaining higher SERP rankings, which will greatly contribute to its overall success and online presence.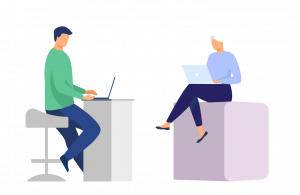 10 Ways to Apply AI in Your Content Creation Process
Before we jump into how to use AI in your content creation process, here are some key facts to keep in mind: 
AI-generated information isn't always accurate or reliable. Do your own research and fact-checking. 

AI-generated content is biased because it pulls information from pre-existing content, so think critically about the information it provides. 

AI-generated text isn't always grammatically or syntactically correct. Proofreading and editing are still necessary. 

AI-generated content can never produce an original or creative thought. Don't plagiarize – be original.

AI-generated content doesn't give any details on where it gets its information. You still need to provide sources in the form of a reference or hyperlink to ensure your content is high quality, reliable, and credible.
1. Generate Outlines
Whether you're writing a post, article, report, or white page, you need an outline to get started. Outlines are a critical and time-consuming step in the writing process, but AI can change that. You can generate an outline in less than a minute by using any of the AI content-writing software available.
Once you have an outline, review it carefully and determine if the sections are relevant to the direction you're taking. It might even give you new ideas!
2. Quickly Learn About a Potential Writing Topic
Many AI content generators use a chatbot feature to make them user-friendly. A great perk is being able to ask any question and get a response. This is a great starting point when brainstorming topics or conducting research. 
As we noted above, though, always fact-check the information these AI programs provide. They're not always reliable or accurate when generating content, so use reputable sources when researching a potential topic.
3. Create Content Briefs and Pitches
Another somewhat arduous part of marketing and writing is creating briefs and pitches for new content. But why spend hours on this when AI can do it in minutes? By inputting text, most AI content-writing software can summarize and distill information in a concise and ready-to-go format. You can then send it out to your team or potential clients, saving you lots of time.
4. Optimize SEO
If you create content, SEO is likely to be at the forefront of your mind. SEO is critical for making sure your work has high SERP rankings, getting it out to the right audience, and increasing your overall brand awareness and presence. AI can lighten the load by automating keyword analysis, detecting gaps or trends in online content, and automating link building. These wonderful features make all the difference when creating high-quality, top-performing content. 
5. Overcome Writer's Block
Writer's block happens to the best of us. But instead of staring at a blank document, you can use AI to help you generate ideas for new content. Let's consider an example of how this looks with Open AI. Using the keywords food, sustainability, organic, and food culture, Open AI generates a list of ideas to get you started, such as "Food culture: Where do you find good local food in your area?" or "How to use your local farmers' market to get the most out of meal planning."
6. Create Internal Business Communications
Internal business communications, like emails, are as tedious to write as they are to read. Instead of spending an hour writing an email outlining goals for the week or updating employees on new events, let AI do it for you! 
7. Generate Titles and Headers
Struggling to come up with a title or header for an article? Make quick work of it by inputting a few keywords and having technology produce a series of titles for you. Of course, use your judgment when choosing a title and consider whether it needs a little improvement with a human touch.
8. Write Featured Snippets and Meta Descriptions
Two other important (yet sometimes tedious and time-consuming) parts of creating online content are writing featured snippets and meta descriptions. Thankfully, AI is made for just this purpose. AI writing software is great at quickly generating concise pieces of information with just a few inputs from the user. This can cut down on time and help improve your chances of being featured and achieving high SERP rankings. 
9. Repurpose Content
AI writing software makes it easy to break down a single article and quickly turn it into a social media post, newsletter, email, or even a script for a YouTube video. You can accomplish this by turning long texts into a couple of sentences in a matter of seconds, adopting a different tone in a piece of original content, or using a social media post generator to stick to word limits. 
The sky's the limit when using AI to repurpose content, which is great for getting your work out to a wider audience on different platforms.
10. Edit and Proofread the Text
No matter what type of content you're writing, you should always edit and proofread it before publishing it. However, proofreading and editing AI-generated content is particularly important because these types of software are liable to include grammatically and syntactically incorrect text. This is also a good opportunity to review the content and structure to make sure all the information is factually accurate, reliable, and ready for publication. 
While we definitely recommend using a professional to proofread and edit your writing, we understand that this isn't always possible. There are many options available to give your work another pair of eyes, though. Some notable AI editing and proofreading tools are the Hemingway app and Wordtune. 
The Hemingway app not only checks for grammar and spelling errors but also assigns your text a readability score. This can help you identify areas that need some revision. With Wordtune, you can paraphrase a sentence that may be awkward or wordy. It also has many extra features, such as providing an example or statistic to help make your writing a little more thorough.
Conclusion
AI-writing technology is here to stay, and those who learn to ethically integrate it into their content creation processes will thrive in the digital world. It's great at automating mundane and tedious tasks, such as generating an outline or writing a meta description. And while many people are already using AI to take the easy road to content creation, ways to detect this type of spam content and enforce the relevant policies and rules are being developed. If you need help getting your AI-generated content publication ready, we're here to help! Our AI-content editorial services will help you scale your content production beyond your competition.
Interested in learning more about AI writing content? Check out A Writer's Guide to Using AI: All You Need to Know. Alternatively, if you're ready to use AI for your content creation but want to give your work a human touch, check out our AI-generated content editing services.