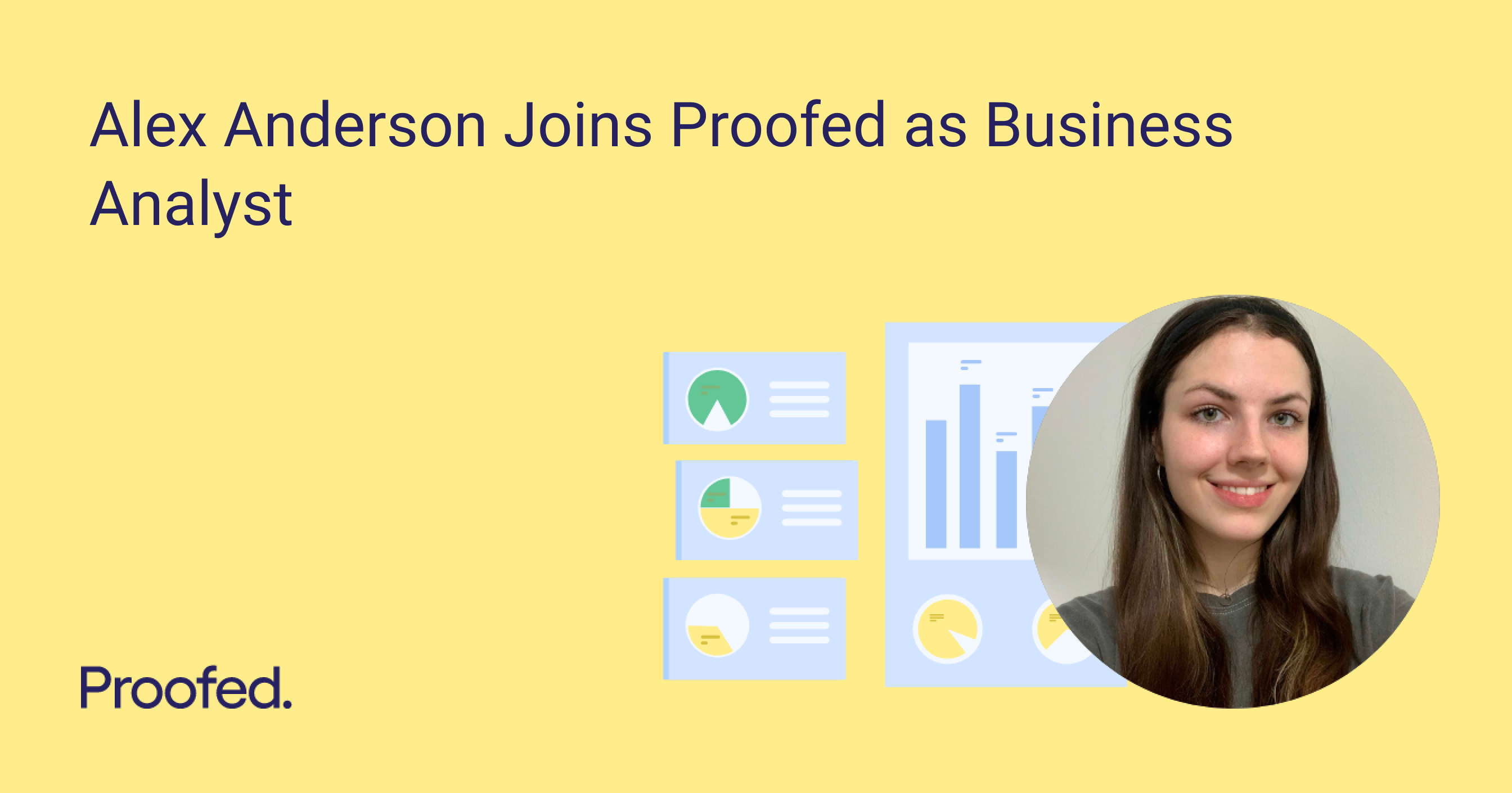 Alex Anderson Joins Proofed as Business Analyst
Growing tech team aids innovation of new platform features.
We're always looking to innovate and improve, so we're excited to welcome Alex Anderson to our tech team as a business analyst.
We set out to find someone for this position because we have many exciting new features in the pipeline for our customers and editors. For this reason, we've been growing our tech team to ensure that the right people and expertise are in place to deliver on our plans.
Alex joins us from Haywards Heath in the south of England and will help us manage and support the development of new features for our platform. We're very excited to see how these new features will optimize the proofreading experience for all users.
In her role as business analyst, Alex will also have duties such as:
Documenting technical requirements for our upcoming features.
Supporting the technical team in platform development.
Providing ongoing support for the planning and implementation of new features.
Assessing how we can best meet the needs of our business customers.
Alex recently finished her Master's in Psychology at the University of Essex. She'll be a business analyst, working with a wide range of people from different parts of the company and coordinating with the tech team.
Find this useful?
Subscribe to our newsletter and get writing tips from our editors straight to your inbox.
Adam Harvey, our CEO, welcomes the new recruit: "We're delighted to have Alex join the Proofed team. We have huge ambitions for 2022, including many new business-focused features that Alex will be instrumental in documenting. These features will make it even easier for Proofed partners to use our platform, so we can continue helping businesses scale their content production by providing fully managed editing teams."
Alex is also happy to be part of the team: "I'm thrilled that I not only have the opportunity to work in an exciting and varied role at Proofed, but also that I have a chance to contribute to the company's continuing growth and to shape its plans for the future."
If you'd like to learn more about our plans for 2022 and how the new features we're developing will benefit our users, contact our tech team at tech@getproofed.com.
More Press Releases?
AI-generated content is here and it's revolutionizing content production. But getting that content reviewed and...
Trusted by thousands of leading institutions and businesses