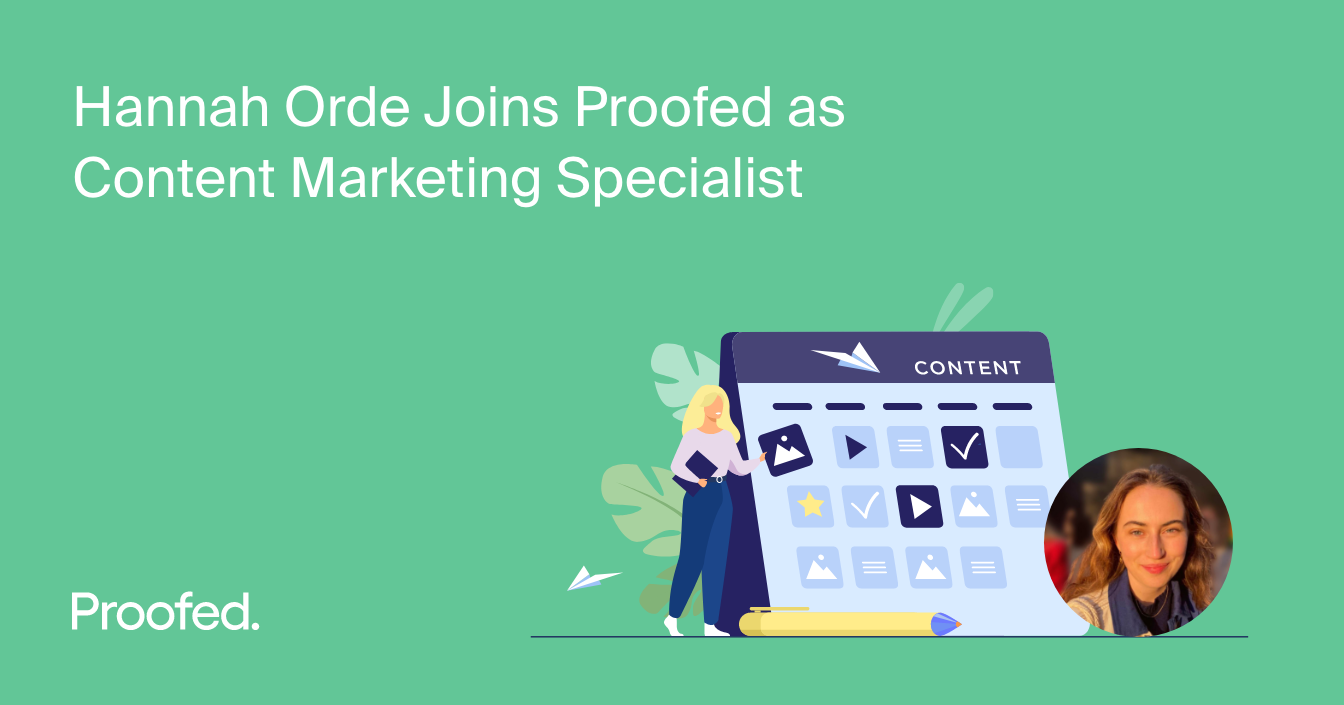 Hannah Orde Takes on Role as Content Marketing Specialist
Rapid growth of marketing team reflects Proofed's ambition as a company.
Proofed is delighted to welcome Hannah Orde to our marketing team, where she will take on the role of content marketing specialist. Hannah is the second marketing hire this year, following in the footsteps of Callum Carlstrom, our new marketing manager.
These recruitments reflect our commitment to growth as we launch new marketing initiatives across a wide range of platforms. It's this increased output of high-quality content that sparked the need for a well-organized, creative marketer to oversee its delivery.
With a background in content creation and blogging, Hannah is perfectly positioned to help us meet our marketing goals. And she has hit the ground running, managing the full scope of marketing content and communications, including:
●  Overseeing our writing tips blog, which provides dependable advice on every aspect of writing for more than 300,000 monthly readers
●  Developing new in-depth writing resources to build on our blog's success
●  Taking over our social media content creation, including Twitter and LinkedIn
Find this useful?
Subscribe to our newsletter and get writing tips from our editors straight to your inbox.
Proofed is also exploring many new avenues and marketing opportunities to continue reaching a wider global audience, so we're sure Hannah will stay busy! We're also looking to expand our marketing team over the coming weeks, months, and years.
Callum Carlstrom, marketing manager at Proofed, is excited by the prospect of growing the team: "We're delighted to welcome Hannah to the company. Our educational content is a core component of the value we offer to writers, students, and businesses, and Hannah will play a vital role in helping us consistently deliver the highest quality content to our customers."
Hannah, meanwhile, is equally excited to get started on new content, saying, "I'm thrilled to join Proofed because, as a writer, I know just how important it can be to have your work edited and proofread. The Proofed writing tips blog is an amazing resource, and I'm honored to be coming in to help our team of writers continue producing fascinating content."
If you want to find out more about what the marketing team at Proofed is up to and our plans for the future, please reach out to Callum Carlstrom at callum@getproofed.com.
More Press Releases?
AI-generated content is here and it's revolutionizing content production. But getting that content reviewed and...
Trusted by thousands of leading institutions and businesses