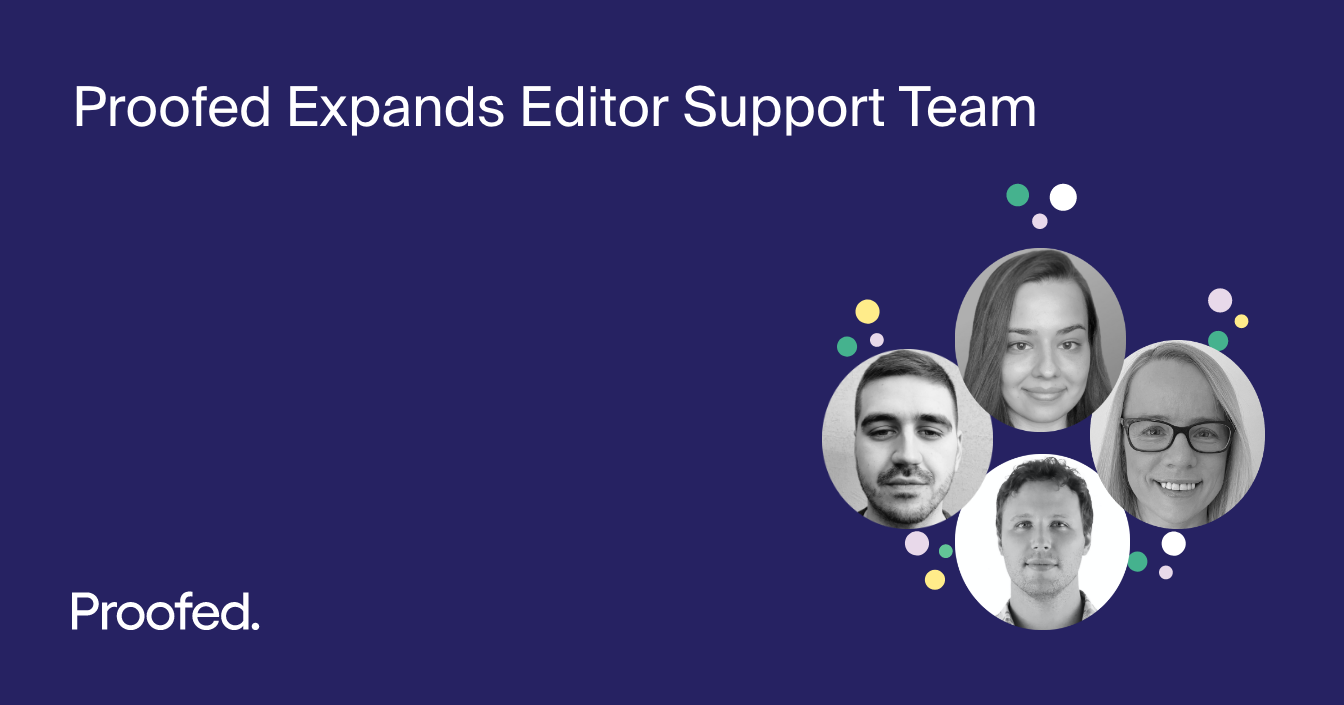 Proofed Expands Editor Support Team
Proofed welcomes four new specialists to help support editors.
Proofed is delighted to welcome four new specialists to our operations team. The new team members will use their experience and expertise to provide extra support for our editors, thus helping to ensure we always achieve the best results possible for our customers.
The new hires also reflect Proofed's proven approach of recognizing and hiring the best talent from within our editing teams to support our growing operations. They will therefore bring their experience of working with Proofed to their new roles, meaning they understand firsthand what editors need to do their jobs, develop their skills, and advance in their careers.
But who exactly are these newcomers? Let us introduce you to them!
Adam Peithman, based in Thailand, is passionate about helping people find practical solutions to their problems. He will bring this to bear in his new role, where he will help to manage the document queue, review documents, and assign work to editors.
Claire Wilson, based in the UK, is dedicated to supporting editors so they can do their best work, helping to ensure the timely delivery of great results in our editing team.
Igor Jankov, who is based in Serbia, likes nothing more than perfecting text until it's presentable and professional. In his new role, his duties will include assigning orders to editors and reviewers, managing active orders, ensuring the timely delivery of high-quality work from Proofed's editors, and providing editor/reviewer feedback.
Kara Shatney, based in the US, loves the art of writing and will support Proofed's freelance editors and ensure timely delivery of high-quality work.
Editor Support Lead Martin Colbourne is pleased to welcome the new team members: "After working closely with all of the new hires during their training, I'm absolutely delighted by what they bring to the team. Their strong editing backgrounds mean they're perfectly placed to support our growing ranks of editors and reviewers. The team is now in a great place as we head toward the second half of 2022."
Find this useful?
Subscribe to our newsletter and get writing tips from our editors straight to your inbox.
These latest hires will help to ensure continued high standards in our editor support team after several members were promoted to our expanding technical delivery team, which focuses on developing and strengthening Proofed's business-to-business relationships, earlier this year.
The new hires also mean Proofed can provide more coverage in Asian and Pacific time zones, thereby ensuring that our editors can get in touch whenever they need assistance.
For information about working for Proofed, visit our careers page. For any inquiries about our proofreading and editing services, feel free to contact us at info@getproofed.com.
More Press Releases?
AI-generated content is here and it's revolutionizing content production. But getting that content reviewed and...
Trusted by thousands of leading institutions and businesses