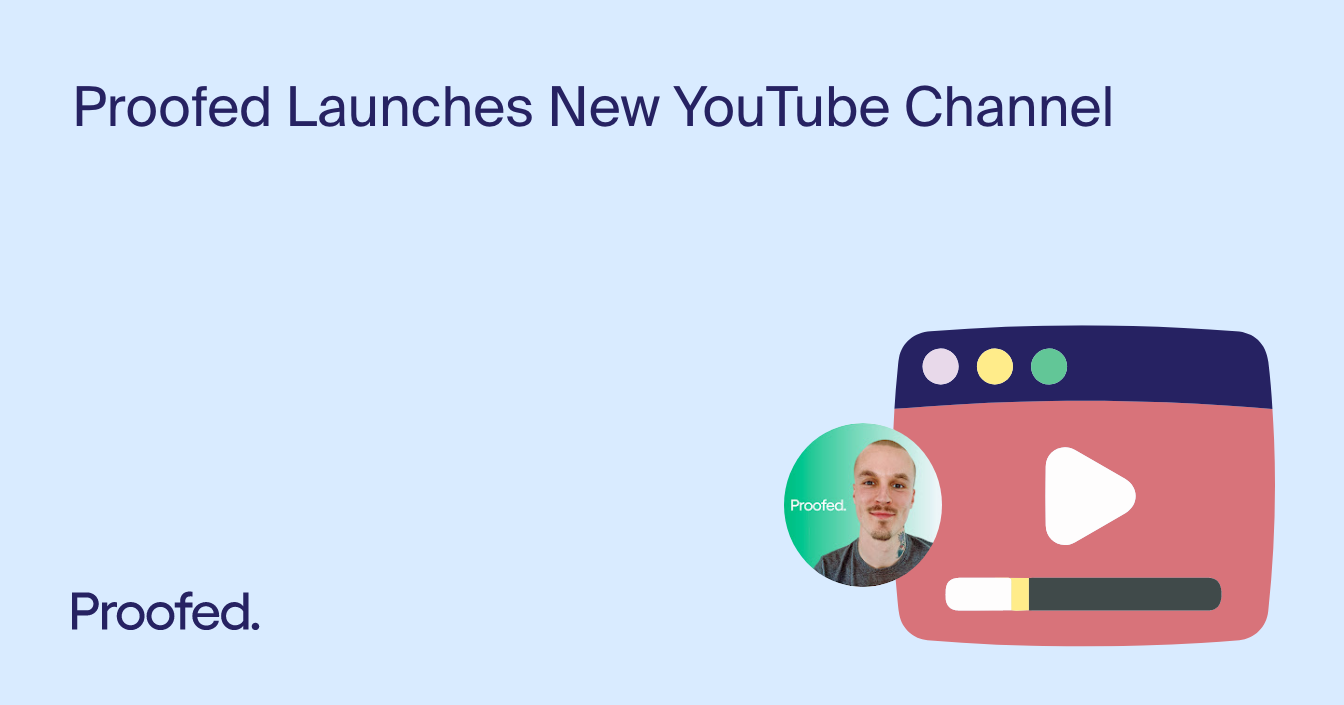 Proofed Launches New YouTube Channel
We might be experts in the written word, but Proofed is now expanding into the world of video! Specifically, we have launched a new YouTube channel where we will share helpful writing tips, giving our followers a new way to learn about writing in an engaging, accessible format.
To develop our new video content, we are working with Jack Horscraft. Hailing from Essex in the UK, Jack will be responsible for both creating the videos and presenting them on camera, drawing on his extensive experience creating content and running a successful channel.
On his new role, Jack says, "YouTube is how a whole generation of internet users seeks answers to any questions they have. Creating something from nothing and sharing whatever I learn along the way are my greatest passions. And if you ask my family, they'll tell you that I also love to correct grammar! Working with Proofed therefore puts me in my element. And I am looking forward to working with them to create content dedicated to sharing their expertise, helping people to communicate effectively, and pursuing grammatical perfection."
You can see one of our first videos published on our channel below, where Jack offers a step-by-step explanation of how to write an Argumentative Essay.
Find this useful?
Subscribe to our newsletter and get writing tips from our editors straight to your inbox.
The move to video builds on the success of Proofed's thriving Writing Tips blog, which now attracts more than 300,000 readers a month. We're very proud of this! But we also want to make our content accessible to as many people as possible. And with more than 2.1 billion people across the globe using YouTube monthly, launching a channel was the next logical step!
Creating a YouTube channel is also just the start of Proofed's wider move into video. With plans to share additional short-form video content on Instagram and TikTok, we're excited to share our expertise with a new generation of writers in a bite-sized, manageable way. Whether starting out at college or penning their first short story, Proofed are committed to offering the highest quality free resources to help our audience improve their writing.
Subscribe to our YouTube channel today to get notifications of our weekly videos with helpful writing tips, covering topics including grammar, spelling, referencing styles, and much more. And if you want to suggest something you'd like to see covered in a video, contact our team today.
More Press Releases?
AI-generated content is here and it's revolutionizing content production. But getting that content reviewed and...
Trusted by thousands of leading institutions and businesses